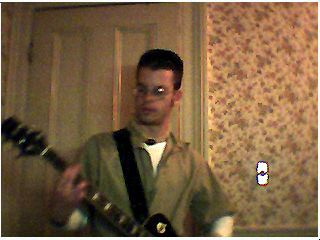 Primary instrument:
Guitar

General Info:
I'm a 21 year old guy living in Bridgeport, OH, I'm easy going and laid back. My only real interest currently is making music. This area is ripe for the taking music wise since there are not really many good band around here, just a bunch of 14 year olds doing really bad imitations of what they call punk.

Looking for:
I am seeking to get some people organized and hopefully record a demo and try to get a record deal, i'd try to get one now but music alone will not get one. I'm not really interested in doing a bunch of covers, but if the band really wants to I'll try some. And I prefer the people live within 30 miles or so of Wheeling, WV.


Bands looking for Musicians | Musicians looking for Jams
Create Your Free Interactive Musicians Profile Now!

Zipjam is for musicians of all types and skill levels. Join today and introduce yourself to other like minded musicians. We invite you to become a member of our online musicians community.

Make it happen now. Meet new talent and make that new band a reality!

Register now!

Create your own musicians profile. You can even add your photo or video!
Check out the range of membership benefits, services and how it works here.
Free Musicians Profile with photos, video and detailed information.
Browse musician profiles by instrument.
Match Finder service to notify you when a new profile matches your criteria.
Internal e-mail system to help protect your privacy.
Instant Messaging.
Music Promotion Resources
Music News and More
Making the right connections today is tough. We hope to help you by providing, community, friends, contacts, and many other cool features.



It's FREE to join, browse and post your profile. Enjoy access to all of Zipjams' great features.

Just think! You may just find the talent and creative energy you are seeking.
Join today! Your best gig ever is waiting!




There are 0 registered users online and 1 guests online. Click here to see who's online.